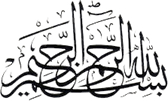 Assalaamu alaikum warahmatullah
Alhamdulillah, Muslim Basketball is proud to announce the creation of its 16th season, FALLBALL '14!!
We will be playing a shortened 3 game season at the Parsippany PAL in Parsippany, NJ. In celebration of our largest season ever in SPRINGBALL '14, we are WAIVING JERSEY FEES for all new players and those who haven't registered since FALLBALL '11! This is a limited time offer that could save $35 on each player's registration! We hope to see you on the courts inshaAllah!